To be a Pilgrim Course – a course for the Christian journey
If you could ask God just one question, what would it be?
Why am I here? What's the point of life? Who is Jesus?
Please see page To be a Pilgrim Course
Faith and the Arts III 2017 - a series of talks to be held in Littleton Church Room in October 2017, are now on sale
Monday 16th October: Moving in Faith - Katie Lawrence
Monday 23 October: Visions of John's Gospel through art - Sophie Hacker
Monday 30 October: Drawing on Faith - Matt Lawrence
Refreshments at 7.00pm. Talks will start at 7.30pm
Tickets: £6 per talk, £20 if all four booked together.
Available from: David Targett (01962 886186, wdtcgt@aol.com)
Margaret Harris (01962 807361)
Carol Ward (01962 883185)
An Autumn Programme of Meditations at Wherwell Church
Following our meditation on Hildegarte von Bingen in September, in October and November we will be meditating on the lives of two more Christian mystics: St Francis of Assisi and Julian of Norwich.
These reflections can provide a useful focus for thoughts on the meaning and purpose of our dailys lives, and are interspersed with passages from the subject's works and carefully chosen music. The meditations are at 6.00pm in the church and last approximately 30 minutes, and re followed by refreshments.
22 October - St Francis of Assisi, founder of the Franciscan Order and Patron Saint of Italy: 1181/2-1226 AD
26 November - Julian of Norwich, anchoress theologian, writer: 1342-1416 AD.
All Souls Services
Traditionally, All Souls' Day is the time when the Church remembers those who have died and offers prayers of thankgiving for their lives. This year, there will be four special All Souls' or All Saints' services in the Benefice for those of us who have been bereaved, and during each service there will be the opportunity to light a candle and to have the names of loved ones remembered in prayer.
In all of our churches there will be a box with cards for you to fill in with the names of those you would like to be remembered. To ensure that the names you give us are read at the service of your choice, please show this clearly on the card before returning it to the designated box in the church. If you prefer, you can give your card to a Churchwarden or Parish Visitor or send it to the Benefice Office. It would be very helpful if you could complete and return the card by Tuesday 24th October.
You will be warmly welcome at any of the following All Souls'/All Saints' services:
Thursday 2nd November
All Souls' - 7.00pm at St Catherine's Church, Littleton
Sunday 5th November
All Souls' - 10.00am at St Mary's Church, Crawley
All Saints' - 3.00pm at St Mary the Less, Chilbolton
All Souls' - 6.00pm at St Stephen's Church, Sparsholt
The ministry team look forward to meeting as many of you as possible at one or more of the All Souls'/All Saints' services. Everyone is welcome. If you would like to attend one of the services but need transport to the church, it will be arraned for you if you leave a message at the Benefice Office: 01962 880845.
Remembrance Sunday Service at Flowerdown Barracks, Littleton
Congregation wishing to attend the service on 12th November are reminded they need to sign up on the sheet at the back of the chuch with their vehicle details. attendees need to be in the barracks by 10.30am for a 10.50am start.
The Vine Trust - volunteers
The Vine Trust is urgently looking for volunteers to help in their Christian Bookshop in Bridge Street, Andover. They especially need help on Monday afternoons, Thursday mornings and Saturdays.
The Vine Trust Bookshop is open 6 days a week from 10.00am to 4.00pm. They operate two shifts per day 10am-1ppm and 1pm-4pm and are looking for volunteers to help with either a 1/2 or full day.
Please contact Brenda Sleath on 01264 355706 or email vinetrustandover@gmail.com or call into the shop to find out more.
One Giant Leap!
Caroline McAulay and Carol Ward would like to thank everyone who supported their sponsored skydive last Sunday. You may be relieved to know they landed safely after an exhilarating jump, and have raised over £3500 for the Alzheimer's Society.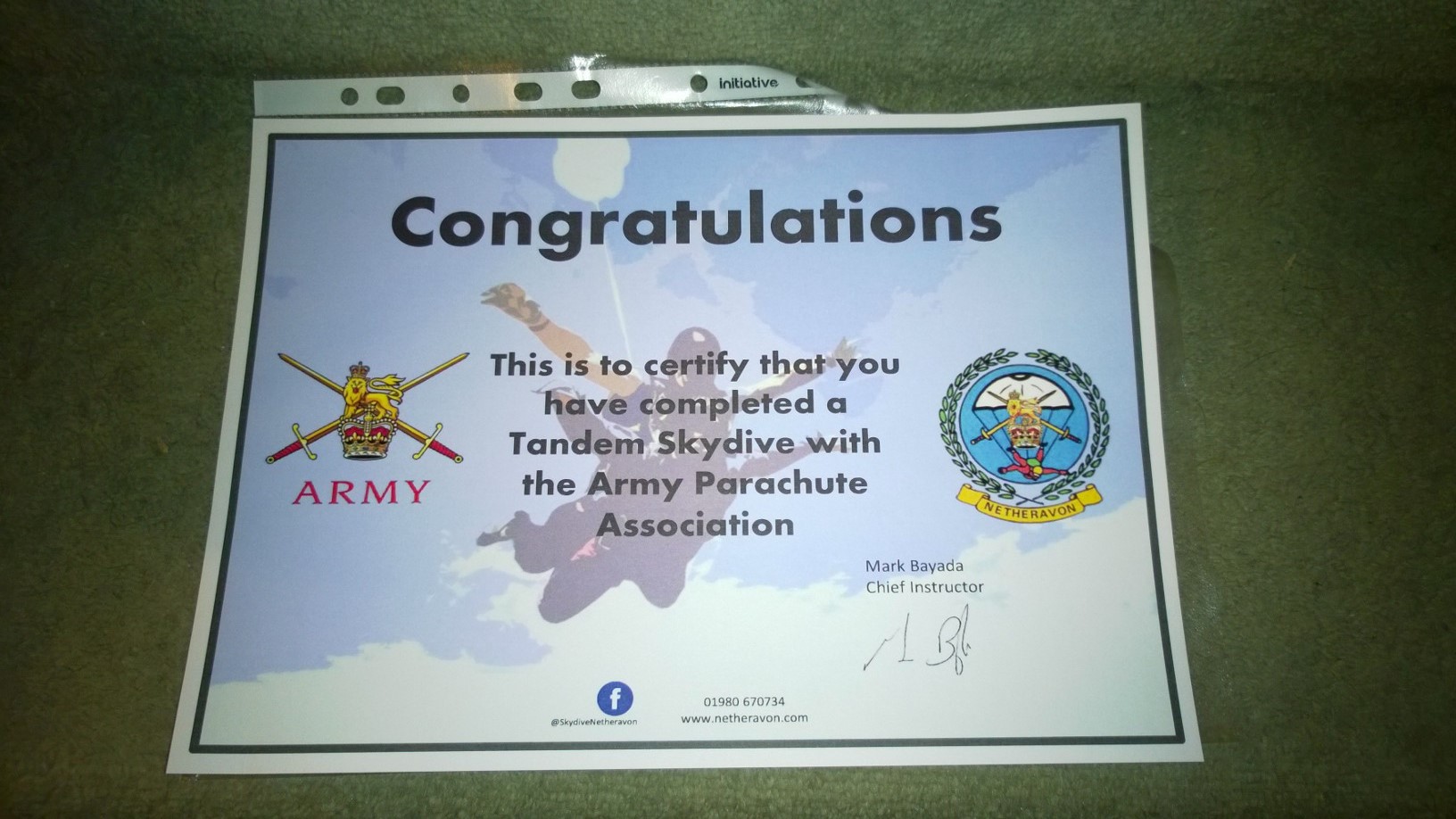 Winchester Street Reach
Many of us will have learnt about this detached youthwork project during our Lent series earlier this year. A 'Friends of Street Reach' membership is being put together where one can make a regular donation and in return receive newsletters, regular updates and more.
If interested, please contact Ben Martin, Project Manager, Street Reach: winch.youth.pm@gmail.com
Food Handling Training
Are there occasions when you help out at Church functions, perhaps preparing or serving food? Good practice requires those who do so to undertake 'training'. It would be really helpful if we had a cohort of people in the Benefice who have undertaken such training, or even completed food handling courses and obtained certificates, so that we, as a Benefice, meet current standards. Ruth Myers, of St Catherine's PCC, has recently run a morning for those who cook for the Littleton Lunch Club, and has offered to signpost this training, which is available free on-line, to anyone who would like to undertake it. Please contact Ruth by email: academicruth@yahoo.co.uk for further information.
Peace and Wholeness Service
Coming to a church near you! is a new idea to help people get to the Benefice Service of Peace and Wholeness. There will be an advert placed in the church porch asking for volunteers to drive to the service once a month. The thinking behind this is that many people don't like driving in the dark and in the winter so a 'Good Neighbour Taxi Service' may enable a few more people to access this special service. There will be a leaflet left in the churches which will explain more about the service, along with dates and how to volunteer.
St Catherine's, Littleton, car-ferry system
St Catherine's currently provide a car-ferry system to enable Sunrise residents and our regular congregation (who temporarily or permanently cannot drive) to attend Sunday Services. This is much appreciated by the users. The numbers of people using the service has grown and we need a few more volunteers to make their car available. If you feel able to offer help, can you please let one of the church wardens know? Dates are pre-agreed with each driver and the aim is to try and ensure that drivers do not exceed two/three Sundays a quarter (depends, of course, on numbers of volunteers).
Please do volunteer if you can. It is such a vital contribution to the wellbeing of parishioners.
Parish Magazine Deadline
A reminder that copy for the Dec/Jan edition of the Benefice Parish Magazine should be submitted by 12.00 noon, Monday 6th Nov at the latest. Details of where to send your article or information can be found in the current magazine
Sparsholt 100 Club
The Sparsholt 100 Club is a lottery, licensed by Winchester City Council and organised through Sparsholt Parochial Church Council and The Friends of St. Stephen's Church Sparsholt, for residents in and local to Sparsholt. There is a monthly subscription of £10 and a prize draw four times a year with a first prize of £100 and three further prizes of £50. Winners will be contacted personally, and names posted in the village shop.
By joining you will help to raise much needed funds in a very good cause which is to keep the church open and well maintained. Membership is by invitation and is limited to 100 members. A membership application form can be obtained from the Sparsholt village shop or from the membership secretary who is Ian Hay at Victoria Cottage, Dean Lane, Sparsholt, Tel. 01962 776 468.
Bible Study Materials
Over the years the Littleton Mid-week House Group has used a variety of study guides to aid our discussions, and has built up quite a collection of surplus copies. We feel that these would be of benefit to other house groups, or individuals wishing to study particular Bible books or topics, and so have put them in the tall cupboard at the back of the Littleton Church Room. Pleae help yourself to any that you would like - the room is normally accessible during Benefice Office opening hours (subject to bookings).