Specialist Respite Care
Could you support a family who has a child with disabilities? Please see the link Specialist_Respite_Care
Save the date! Monday 23 April - The Lyra Singers from St Petersburg visit Littleton
These professional singers from St Petersburg have planned a Spring tour in southern England; St Catherine's is delighted to host them, having received high recommendation following their 2017 tour which included the Cheltenham Festival. Through their performance they want to introduce us to the musical hesitage of the Russian Orthodox church as well as traditional Russian folk music. The concert will be in the church at 7.30pm on Monday 23rd April followed by a glass of wine and nibbles in the church room.
Tickets at £14 each available from David Targett (886186), Clive Thompsett (885039) and Carol Ward (883185)
Registered Charity Winchester Bereavement Support (WBS) needs a Volunteer Treasurer
Can you help? Can you:
Manage the charity's day-to-day financial transactions
Complete the charity's annual return and make Gift Aid claims
Ensure the charity maintains sufficient funds to support its operations
Advise the Executive Committee on budgets and spending as and when required.
The Treasurer also acts as a Trustee of the charity. The charity was founded in 1982, and is entirely dependent on donations and fundraising, receiving no grant funding. The charity has no premises and no employees so accounts are straightforward. The Treasurer will also be required to attend six Committee meetings per year, held in central Winchester on Monday evenings.
For more information and to apply please email: help@winchesterbereavementsupport.org.uk
St Mary the less, Chilbolton - our services are changing!
Beginning in January, Family Services will take place on the first Sunday of the month (7th January), at the usual time of 10am. Evensong will move to the fourth Sunday.
In winter, instead of Evensong in a cold church, we sometimes have a short and simple 4pm Sunday Service in someone's home, beside a cheerful fire, with tea and cake and a friendly chat afterwards. Why not come and join us? We are very welcoming and quite informal.
Further details are on our Sunday Services page
Winchester City Centre Chaplaincy Law Courts Team
Are looking for more volunteer chaplains to join the Law Courts team, which is now well established and well received. If you are interested, contact the Lead Chaplain, Debbie Veel for further details or an informal chat - chaplain@winccc.org.uk or 07834 540106.
Bishop of Winchester's Lent Lectures 2018 - Tuesday 6 March 2018 - Christ Church Winchester
Daytime session 9.30am - 3.45pm £10.00 (including lunch and refreshments)
This year's speaker is Nick Spencer, Director of Research for Theos, the leading Christian Think Tank. Nick will be speaking on The Common Good, looking at how Anglicians understand this concept, and how we might contribute to the common good.
Evening session 7-9pm £5 (including refreshments)
The Common Good: An Anglican understanding and our contribution - lecture and discussion.
Tickets and full programme information are now available through this link. The deadline for booking is 28th February.
A Spring Programme of Meditations at Wherwell Church
Following the success of the series of three meditations last Autumn, we are presenting three further meditations this Spring. They will be based on the lives of three people who have been instrumental in the establishment of the church: St Peter, Martin Luther and John Wesley. These relfections can provide a useful focus for thoughts on the meaning an purpose of our daily lives, and ar interspersed with passages from the subject's works and carefully chosen music. The meditations will be held at 6pm in the church and last for around thirty minutes, and will be followed by refreshments.
4 March - St Peter, Apostle, Leader of the Early Church, 1st-2nd Century
6 May - Martin Luther, Monk, Priest, Professor of Theology, Composer, Protestant Reformer, 1483-1546 AD
3 June - John Wesley, Priest, Theologian, Founder of Methodism
Saturday 10th March in Sparsholt
The Cathedral Choir including the Choristers and Lay Clerks are coming to St Stephen's!
Choral Evensong will be at 5.30pm (not 6pm as in Parish Magazine) in the Church, followed by Supper & Drinks in the Memorial Hall. Tickets will be available from February from Sparsholt Village Shop or contact: John and Sally Wesley - email sally.wesley@btinternet.com.
Karis Kids
There is to be a Karis get together for all local supporters, and anyone interested in finding out more about Karis Kids on the 4th February, 3.00-5.00pm, in the Simeon Room at Christ Church, Winchester. The aim of the gathering is for supporters to learn from each other's experience of developing their links with their Ugandan family as well as getting an update on what's been happening in Kampala.
It is possible that a meeting may be arranged in th Downs Benefice at a later date as we are aware that Cafe Church occurs on this afternoon in Littleton and so it might be difficult for folk to attend.
Karis Kids - new update!
We are delighted that a family from Chilbolton have offered to be a replacement link for a family who hae moved out of the benefice, but we are also now looking for a further family, individual or gorup to link up with a family in Okuvu, Kampala who had been supported previously by the youth group of the Hope Church in winchester. Writing to a linked family is not onerous, being 3-4 times a year, and receipt of letters back from the Ugandan family is so wonderfully uplifting. The support we can offer is so gratefully received and makes a real difference to the lives of these families, and in particular the children. The total cost of family support is £65/month. Individuals or families can join together to provide the total amount needed so please do not feel constrained by concerens about not being albe to fully cover th costs for the family; even as little as £5.00/month is appreciated. If you feel you could write, or mke a regular donation, or if you would like to be involved in any other way, please contact Carol Ward - carol.ward@daleclose.co.uk.
Confirmation
Confirmation will take place in Winchester Cathedral during the Easter Eve Vigil on Saturday 31st March 2018. Revd Jax would like to take forward candidates from The Downs Benefice for Confirmation by the Bishop of Winchester at this serice and is proposing to hold the preparation sessions in the New Year.
Please could anyone who is interested or would like to know more either contact Revd Jax direct on revdjax@downsbenefice.org.uk or the office on 01962 880 845 or office@downsbenefice.org.uk.
Rydal 2018: Saturday 26th May - Saturday 2nd June
This popular Downs Benefice holiday in the Lake District will definitely take place in May 2018. The benefice has been going to the Lake District every other year since 1990 and the fact that so many people keep returning shows that it is a really enjoyable and memorable holiday.
At the back of each church in the Benefice there is a letter giving a fuller description of what happens at Rydal and the costs. Do please pick up a copy and consider joining us. You will be most welcome.
Contact Eryl or Clive thompsett - 01962 885039/clive.thompsett@icloud.com to learn more about Rydal and to indicate your possible interest in joining us.
Amnesty on unwanted Christmas Gifts
I work in a small hospital as a nurse, and we often find ourselves without provisions to do our job to the best of our abilities. We have toothbrushes but no toothpaste. We have soap that doesn't foam up or give any comfort to the patients. Imagine being in bed 24 hours a day to be woken up by us giving you a wash.
I regularly spend £20+ every month on soaps for the patients but often it's not enough for the sheer amount of people we have. So I have a request. This Christmas everyone gets gift-sets they don't want. Soaps, body lotion, sprays. Rather than hiding them in the bathroom, or giving them to soeone else after forgetting their birthday give them to a NHS worker. Some patients don't have families to provide them with these things, and it'll make their new year that little big brighter when they start the year off literally feeling fresh.
Thank you, Lauren Forst.
Gifts can be left with Revd Jax at the Benefice Office.
The Vine Trust - volunteers
The Vine Trust is urgently looking for volunteers to help in their Christian Bookshop in Bridge Street, Andover. They especially need help on Monday afternoons, Thursday mornings and Saturdays.
The Vine Trust Bookshop is open 6 days a week from 10.00am to 4.00pm. They operate two shifts per day 10am-1ppm and 1pm-4pm and are looking for volunteers to help with either a 1/2 or full day.
Please contact Brenda Sleath on 01264 355706 or email vinetrustandover@gmail.com or call into the shop to find out more.
One Giant Leap!
Caroline McAulay and Carol Ward would like to thank everyone who supported their sponsored skydive last Sunday. You may be relieved to know they landed safely after an exhilarating jump, and have raised over £3500 for the Alzheimer's Society.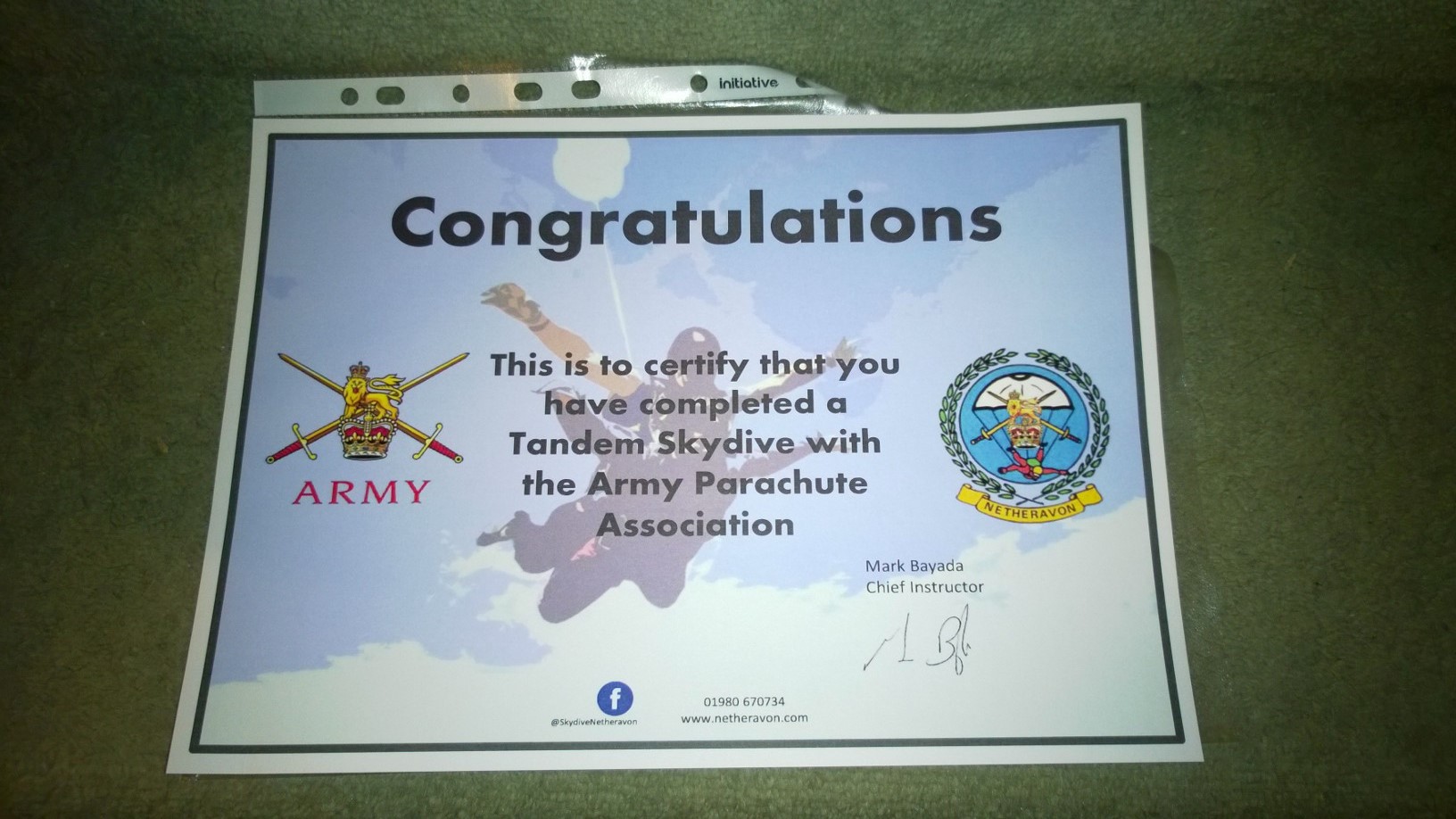 Winchester Street Reach
Many of us will have learnt about this detached youthwork project during our Lent series earlier this year. A 'Friends of Street Reach' membership is being put together where one can make a regular donation and in return receive newsletters, regular updates and more.
If interested, please contact Ben Martin, Project Manager, Street Reach: winch.youth.pm@gmail.com
Food Handling Training
Are there occasions when you help out at Church functions, perhaps preparing or serving food? Good practice requires those who do so to undertake 'training'. It would be really helpful if we had a cohort of people in the Benefice who have undertaken such training, or even completed food handling courses and obtained certificates, so that we, as a Benefice, meet current standards. Ruth Myers, of St Catherine's PCC, has recently run a morning for those who cook for the Littleton Lunch Club, and has offered to signpost this training, which is available free on-line, to anyone who would like to undertake it. Please contact Ruth by email: academicruth@yahoo.co.uk for further information.
Peace and Wholeness Service
Coming to a church near you! is a new idea to help people get to the Benefice Service of Peace and Wholeness. There will be an advert placed in the church porch asking for volunteers to drive to the service once a month. The thinking behind this is that many people don't like driving in the dark and in the winter so a 'Good Neighbour Taxi Service' may enable a few more people to access this special service. There will be a leaflet left in the churches which will explain more about the service, along with dates and how to volunteer.
St Catherine's, Littleton, car-ferry system
St Catherine's currently provide a car-ferry system to enable Sunrise residents and our regular congregation (who temporarily or permanently cannot drive) to attend Sunday Services. This is much appreciated by the users. The numbers of people using the service has grown and we need a few more volunteers to make their car available. If you feel able to offer help, can you please let one of the church wardens know? Dates are pre-agreed with each driver and the aim is to try and ensure that drivers do not exceed two/three Sundays a quarter (depends, of course, on numbers of volunteers).
Please do volunteer if you can. It is such a vital contribution to the wellbeing of parishioners.
Parish Magazine Deadline
A reminder that copy for the April/May edition of the Benefice Parish Magazine should be submitted by 12.00 noon, 5th March at the latest. Details of where to send your article or information can be found in the current magazine
Sparsholt 100 Club
The Sparsholt 100 Club is a lottery, licensed by Winchester City Council and organised through Sparsholt Parochial Church Council and The Friends of St. Stephen's Church Sparsholt, for residents in and local to Sparsholt. There is a monthly subscription of £10 and a prize draw four times a year with a first prize of £100 and three further prizes of £50. Winners will be contacted personally, and names posted in the village shop.
By joining you will help to raise much needed funds in a very good cause which is to keep the church open and well maintained. Membership is by invitation and is limited to 100 members. A membership application form can be obtained from the Sparsholt village shop or from the membership secretary who is Ian Hay at Victoria Cottage, Dean Lane, Sparsholt, Tel. 01962 776 468.
Bible Study Materials
Over the years the Littleton Mid-week House Group has used a variety of study guides to aid our discussions, and has built up quite a collection of surplus copies. We feel that these would be of benefit to other house groups, or individuals wishing to study particular Bible books or topics, and so have put them in the tall cupboard at the back of the Littleton Church Room. Pleae help yourself to any that you would like - the room is normally accessible during Benefice Office opening hours (subject to bookings).